Hi friends, welcome to our "Wings and Petals" August 2020 Release Blog Hop + Giveaway!
I have been receiving lots of encouragement on social media with these stamp sets and all I can say is that you guys are too kind! Thank you so so so much!!
This release is full of delicate, elegant and very dainty flower and butterflies. I decided to go with loose watercoloring and let the design themselves shine for my card for the hop:

Key Ingredients:
Blushing Blooms stamp set
Awesome Blossom stamp set
Funky Hexagons background stamp
Sweet sentiments stamp set (from July 2020 release)
Steps:
Print and fussy cut the flowers and leaves. I used Canson Mixed Media paper for the printing. I also went over the lines a little bit with my Copic multiliner pen to make sure they were waterproof.
Next I did some very loose watercoloring with Gansai Tambi watercolors and little bit of Daniel Smith watercolors.


I also printed the hexagon background on another Canson Mixed Media paper and trimmed out a panel from it.
I adhered all my flowers and leaves on the trimmed out panel and adhered some chunky glitter to flower centers.
I also trimmed out a sentiment banner saying "Happy Birthday" (sentiment from last month's stamp set), adhered that and finished the card :-)

From Teri Spracklin:
Please welcome Teri to this space. She is adding her content here while she gets her blog up and running :-)
One of the things that I enjoy most about digital stamps is that they enhance my stash of physical products. Recently, Varada had a whole series of posts related to using up your stash and that is what inspired this tag!
I have a stack of background panels that I've collected over the past while (you know, the ones you make when you're just 'playing') and I wanted to create something that combined one of these panels with one of VaradaSharma's beautiful newly-released stamps. When I looked at this background painted with Nuvo shimmer powder in a very splattered texture (created by adding just a light mist of water over the powder) I realized that the arc of the paint loosely followed the arc of the butterfly's wings.
(Please forgive the terrible photo, but I wanted you to be able to see the original digital file against my card panel!)
Since the panel was already cut down to 4 1/4 x 5 1/2, I first printed the butterfly in the size that I wanted onto a regular piece of paper. This butterfly came from the
Beautiful Butterflies stamp set
. I then taped my painted cardstock directly over top of the printed image. I was then able to feed that paper back through the printer and have the butterfly print over top of the paint. I didn't get the placement exactly right because the added thickness of the two layers caused the paper to misfeed slightly, but I was still really happy with the way that it turned out.  Cutting around the whole butterfly at the end helped to mask the error, anyway!
To help define the parts of the butterfly's wings, I traced over the outline with a black fine-tip Sharpie and filled in some of the segments. I then got out a fine paintbrush and used a tiny bit of water to reactivate the pigment on some of the segments, spreading the paint into a very transparent wash.  I tried to make sure that some panels became a bit more pink and others a bit more purple and still others a bit more blue in order to create some contrast but still showcase the colour variety in the pigment powder. I tried to make sure that some panels became a bit more pink and others a bit more purple and still others a bit more blue in order to create some contrast but still showcase the colour variety in the pigment powder.  I also used a dark gray coloured pencil to add a shadow along the edges and then added highlights with a Gelly Roll pen.
This fall, I'm hoping to bring some cheer to my coworkers with some random little gifts, just small things like a cup of their favourite tea, and so I want to have a stash of gift tags on hand. I added "To:" and "From: Teri" using my Gelly Roll pen and some crochet twine to attach the tag to the gift.
I encourage you to see how you can use this gorgeous new stamp release with the premade panels you have in your stash. You might surprise yourself with what you come up with!
Giveaway:
To celebrate this release, we are giving away THE ENTIRE RELEASE to one lucky blog reader – selected at each stop in the hop. Giveaway closes on Sunday, August 16th, 11:59 pm CDT. The winner will be announced in the blog hop post the following Tuesday.
To win simply comment below.
Want one extra point? Subscribe via email to https://VaradaSharma.com.
Want two extra points? Become a member of the FREE Silver Membership subscription at https://varadasharma.com/product/monthly-digital-stamps-silver-membership/
Here is the full list of stops in this hop (yes, for more chances to win!)

Teri Sparklin & Varada Sharma

<< You are here. Since both of us are sharing our ideas in this single post, I will draw two winners at this stop. :-)
SUPPLIES LIST
For your convenience, I am sharing links to the supplies I've used or the ones you can use for making similar cards – click on the picture or link to go directly to the product. Wherever available, I have used affiliate links, which means when you make a purchase, I receive a small commission (at no extra cost to you) which I use to run this blog. I truly appreciate your support!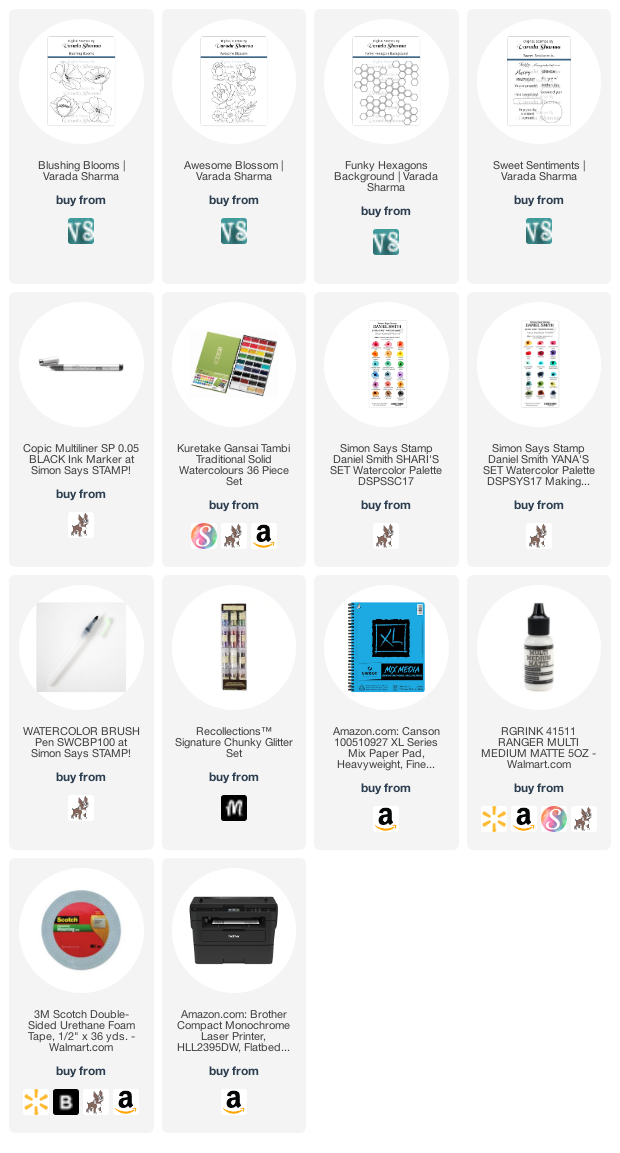 Hugs!
~Varada